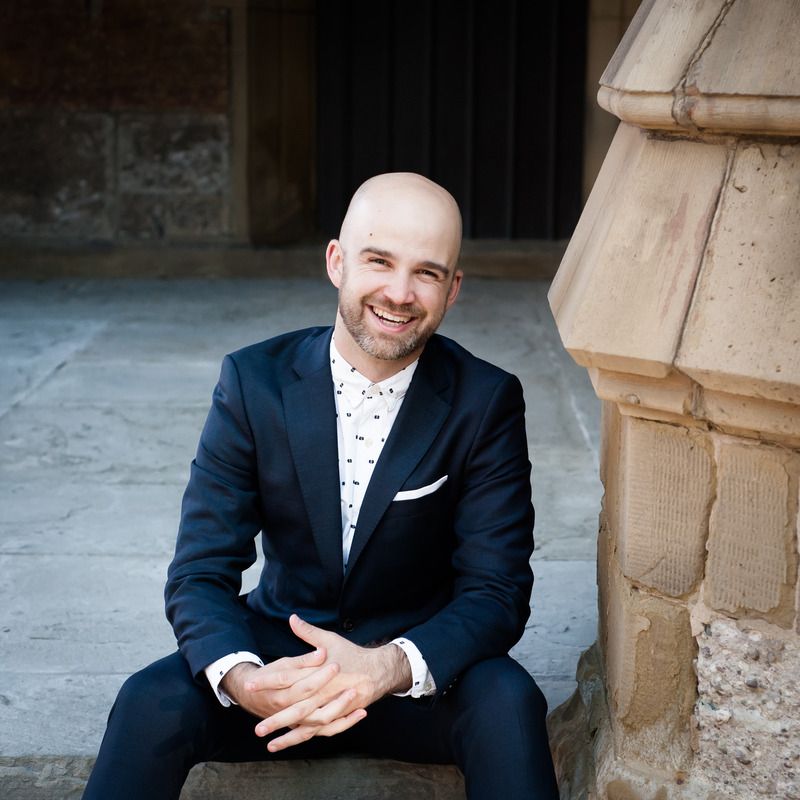 American tenor, Zachary Wilder, graduated from the Eastman School of Music with a Bachelor's in Music before completing a Masters in Music at the Moores School of Music, University of Houston. Additionally, Zachary was a Lorraine Hunt-Lieberson Fellow at Emmanuel Music, a Gerdine Young Artist at the Opera Theater of Saint Louis, an Adams Vocal Masterclass Fellow at the Carmel Bach Festival, a Tanglewood Music Centre Fellow, a Britten-Pears Young Artist and a member of the Les Arts Florissants academy for young singers, Le Jardin des Voix 2013.
Currently living in Paris, Zachary is a sought after performer both on the operatic and concert stage. He has worked with musical luminaries such as Leonardo Alarcón, Elliot Carter, William Christie, Harry Christophers, James Levine, Stephen Lord, Mark Morris, Paul O'Dette, Christophe Rousset, and Stephen Stubbs. Zachary has also performed with numerous ensembles internationally, including Apollo's Fire, Les Arts Florissants, Ars Lyrica Houston, Back Bay Chorale, Blue Heron, Boston Early Music Festival, Les Bostonades, Cappella Mediterranea, Ensemble Clematis, Ensemble Médical de Munich, Emmanuel Music, Festival d'Aix-en-Provence, A Far Cry, The Green Mountain Project, Handel & Haydn Society, Harvard Baroque Orchestra, Houston Bach Society, Les Talens Lyriques, Mark Morris Dance Group, Mercury Houston, Opera Omaha, Pacific Musicworks, Portland Baroque Orchestra, San Antonio Symphony, Tenet and Tesserae Ensemble.
Operatic roles include Alessandro in Mozart's Il Re Pastore (Grand Harmonie), Renaud in Lully's Armide (Mercury Baroque), Grimoaldo Rodelinda, Osman in Handel's Almira, Mordecai Esther, Coridon in Handel's Acis and Galatea (Festival d'Aix-en-Provence, La Fenice, Venice), Telemaco and Pisandro in Monteverdi's Il Ritorno d'Ulisse in Patria, Mercurio in Zamponi's Ulisse nell'Isola di Circé, Testo in Monteverdi's Il Combattimento di Tancredi e Clorinda (Los Angeles), Iro in Cavalli's Elena (Aix-en-Provence, Versailles, Lille Opera and Lisbon) and Tantalus and Ixion in Charpentier's La Descente d'Orphée aux Enfers with the Boston Early Music Festival and at the Wigmore Hall, London with Christian Curnyn.
On the concert platform, Zachary is internationally in great demand; his repertoire includes Monteverdi's Vespers of 1610 and Madrigals, Book VII with Paul Agnew and Les Arts Florissants (Caen, Antwerp, Prague, Dresden, and Paris), Haydn's Creation and The Seasons, the Evangelist in Bach's Saint John and St Matthew Passions, Mozart's Requiem, and Handel's Messiah (Portland Baroque Orchestra, Mercury Houston, Virginia Symphony, and Alabama Symphony, Birmingham, USA).
Recent highlights include un Sylphe in Rameau's Zaïs at the Festival de Beaune with Les Talens Lyriques and Christophe Rousset (Amsterdam, Versailles and Vienna), Tirsi in Gagliano's La Dafne in Bruges with Cappella Mediterranea and Leonardo Garcia Alarcón, concerts at the Festival de Thiré with William Christie, a Bach programme with Mercury Houston, Damon Acis and Galatea in California with The American Bach soloists, Septimus Theodora with Early Music Vancouver (USA and Canada), Haydn's Die sieben letzten Worte unseres Erlösers am Kreuze in Paris with Orchestre de Chambre de Paris under the baton of Mo Alarcón, B minor Mass with the Grand Rapids Symphony, and Lucano L'incoronazione di Poppea and Telemaco Il ritorno d'Ulisse in patria both for Boston Early Music Festival.
This season Zachary will perform Monteverdi Vespers in Vancouver, Mozart's Requiem in London with the London Philharmonic Orchestra, Bach's Magnificat in Montréal with the Arion Orchestre Baroque (which will be recorded), performances of Messiah in Seattle, Evangelist St Matthew Passion in the US, some Buxtehude and Bach concerts in California, Euryale in Lully's Persée with Le concert Spirituel in Versailles and Hervé Niquet, Zadok in Handel's Solomon, and a recording with Leonardo Alarcon.
His discography with Boston Early Music Festival includes Lully's Psyché (Grammy nominated), Rameau's Le Jardin de Monsieur Rameauwith Le Jardin des Voix and William Christie, Zamponi's Ulisse all'Isola di Circé (Ricercar) and Monteverdi's Vespro della Beata Verginewith Leonardo Alarcón.